Some of my favorite weddings are the ones where I have a chance to pull in personal details about the bride and groom. Molly and Ben came to me without a clear vision for their Hickory Street Annex wedding, so I took a few elements about them and their relationship and went from there.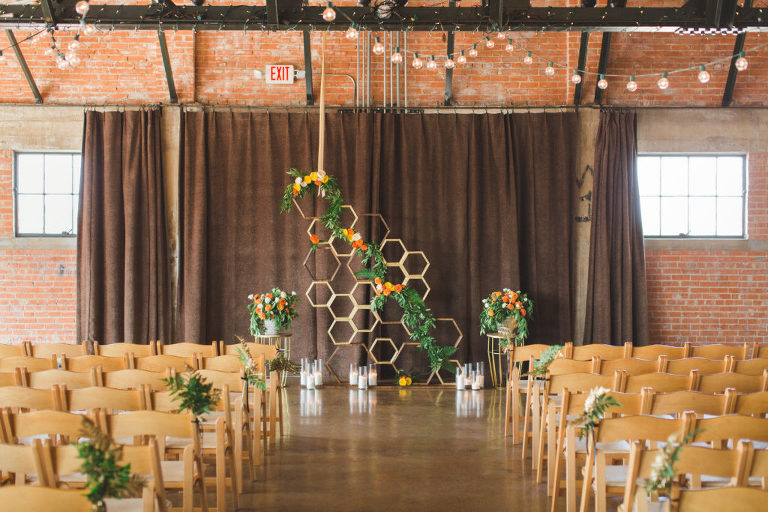 About the Hickory Street Annex Wedding Venue
Hickory Street Annex is a great venue with a lot of interesting design elements. The huge windows that surround the loft-style space provide tons of natural light that highlights the exposed brick walls,  wooden ceilings and concrete floors.
It's also the perfect backdrop for bright colors, so we decided to use an orange and yellow color scheme with lots of greenery for additional texture. We strung Edison lightbulbs for a vintage feel and cafe  lights to create warmth in the room and I built an altar backdrop made of hexagons to create a focal point for the ceremony.
Wedding Menu
Gil's Elegant Catering provided the catering and produced a spectacular menu just for Molly and Ben. They put a unique spin on the standard dinner salad and created a full salad bar with everything from black olives and feta cheese to candied pecans and homemade croutons. Then there was the main course that featured a whole roasted pig!
Ben is a microbrew guy and proposed to Molly at The Flying Saucer (which is also where they had their first date), so a beer tasting bar was an obvious choice. We set out several of Ben's favorite beers with descriptions written in calligraphy by Harts and Quills.
For Dessert
Molly and Ben opted for cupcakes from Layered Bake Shop, instead of the traditional wedding cakes. When I heard that, I knew we needed something dramatic. So I constructed a 10′ tall wooden cake stand. We covered the stand in the same flowers that we used in the centerpieces with lots of greenery for added drama.
See all the details from Molly and Ben's wedding in these photos by Hiram Trillo Photography.
Considering a Hickory Street Annex wedding or a wedding at another Dallas venue? Let the Dallas wedding planners and coordinators at Partridge & Pear Weddings design and coordinate a wedding that is perfectly you.
Hiram Trillo Photography | Verbena Films | Hickory Street Annex | Gil's Elegant Catering | Layered Bake Shop | Noah Galaviz